Char-Broil Universal Barbecue Rotisserie
£77.99
For delicious rotisserie, you don't need to go out! Roast at home right on your grill with Char-Broil's Universal Rotisserie which has a one piece spit rod designed to fit most 2 to 4 burner barbecues.
Rotisseries are perfect for roasting poultry, roasts, loins and even vegetables. Just slide on your meats, set the up the rotisserie and roast succulent, tender food evenly, right on your gas barbecue.
Available at our store in Wellingborough.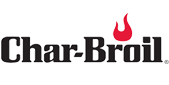 Only logged in customers who have purchased this product may leave a review.